What if all your troubles disappeared and your efficiency increased all at once?
With integrated software, well planning can take place in an All-in-One solution!
Designing a well with legacy technology requires you to use a range of different software tools, forcing you to input the same data multiple times without the possibility of communication between the different data sources. You would not accept such an inefficient use of time in your everyday life -- so why accept it at work where you deal with critical calculations and limited time?
One Source of Truth
Oliasoft WellDesign integrates every calculation required for well trajectories, casing design, drill string analysis, tubing design and blowout & kill into a single modern, cloud-based web application.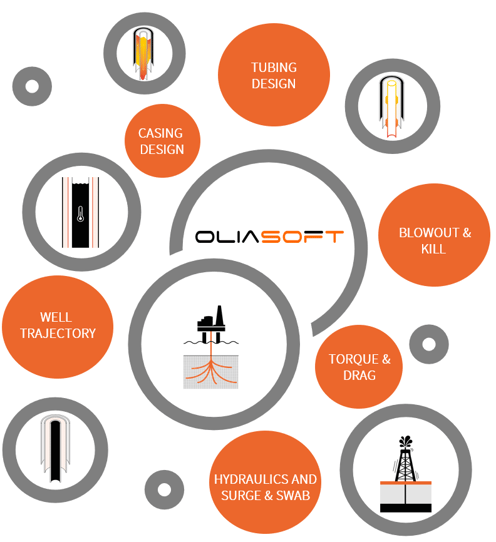 Since all critical and mandatory well design calculations are integrated, there's just one source of data and the engineer only have to enter that data once. Not only does that reduce the risk of error from contradictory data, it means all that time you used to waste on importing and exporting data can be used on productive work. Everything is performed inside one comprehensive tool!
Always Updated
Oliasoft WellDesign's integrated workflow enables automatic updates throughout the design when any of the design parameters are changed. You get the ability to immediately see the effect on the full design when some of the input parameters are updated, which means the engineers can engage in much more efficient sensitivity analysis than what legacy technology allowed. When the effect of different input parameters can be seen immediately, it becomes possible to optimize designs in a much better way.
When either the formation data, reservoir properties or casing setting depth are updated, you will automatically see the effect on the simulated blowout rates. Likewise, torque and drag calculations will instantly be updated if the well trajectory or drill string design is updated. Read more about the real-time calculations and updates here.
Oliasoft is taking drilling engineers into a new era, one where separate calculations are brought closely together to ease the work, improve the process, and optimize the outcome.
Reduce the number of pointless keystrokes and latency by automating your work
Traditionally the well design process has more or less been based on manual input of data. By building an integrated software using modern software technology, Oliasoft WellDesign enables the possibility to automate the entire well design process based on specified rules which can be based on industry standards and company specific regulations. By using modern software technology, Oliasoft offer automated and optimized well designs based on these rules to improve the delivery of the wells. Drilling engineers will be able to spend their time on analyzing and assessing optimized designs, instead of manual data input.
Technology that we are using in our everyday is constantly getting more modern and solves even problems we didn't even know we had. As engineers we need to expect this for the tools that we are using for our highly advanced well planning as well. Complexity is not an excuse for accepting the state of things, we must constantly challenge the way we perform our tasks and optimize processes as best as technology allows us to do.
Oliasoft WellDesign is the best choice today, and will be the only choice in the digital future
Want to learn more about Oliasoft WellDesign?
Linda Sæther
Linda Sæther is Senior Director - Technical Marketing at Oliasoft. Linda is originally a petroleum engineer graduated from NTNU, with deep product knowledge after several years as product manager for parts of Oliasoft WellDesign. She has been responsible for several of the company's customers and external relations, and also contributed to building up our internal customer success team.