Using Oliasoft WellDesign when planning Carbon Capture and Storage wells
Oliasoft WellDesign (OWD) is a modern integrated and seamless cloud engineering software application that connects every link in the well planning calculation chain and adheres to all regulatory requirements for well construction engineering. The OWD tubing design and blowout and kill modules contains unique industry specified features for CCS well planning and design.
The tubing design module can perform advanced thermal modelling and multistring analysis for any well configuration. Its thermal simulator has full capability to model injection of liquid CO2 with a range of impurities.
The blowout and kill module is the only commercial software that performs stochastic blowout and dynamic kill calculations according to the latest industry guidelines. The functionality also supports blowout simulation of liquid CO2 and subsequent kill operations.
Key features:
Thermal simulator with full capability to model liquid injection of CO

2

Multistring analysis with the option to add and remove fluids in any annuli

Ability to simulate liquid CO

2

blowout and kill operations

All regulatory well planning calculations integrated in a single cloud application

Open APIs to connect with third party applications



Using Oliasoft WellDesign as a tool for designing CCS wells
Oliasoft WellDesign currently consists of six modules which cover all regulatory calculations needed to perform well planning. The software fully integrates the modules with data flowing freely between them - removing the need for reentry of data.
The application is built on top of an extensive library that, amongst others, contains predefined CO2 fluids, both pure and impure. The library also supports addition of custom fluid files, either by uploading an OLGA format tab file or by defining a custom fluid composition. Currently, the hydrocarbon equation of state is applied when defining a CO2 fluid in the hydrocarbon library.

When using the thermal simulator in the tubing design module, CO2 can be selected as the applied fluid for production and injection simulations. The chained simulation functionality further allows these results to be used as the initial condition when simulating waiting or shut-in operations. The thermal simulator has full capability to model liquid CO2, including the full phase envelope of CO2 and the Joule Thompson effect from gas expansion.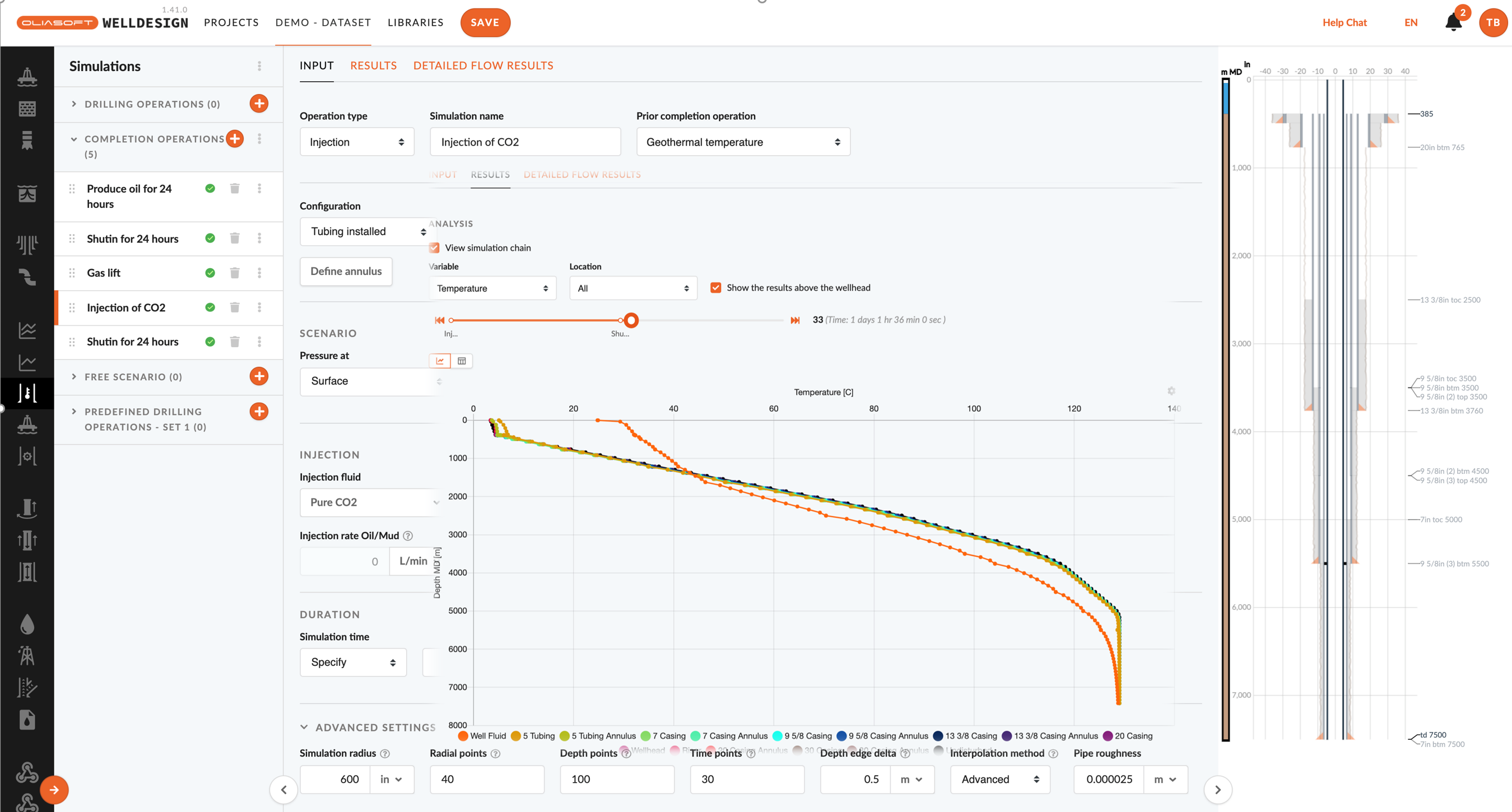 Multistring analysis includes annular fluid expansion and annular pressure build up. In addition to negative fluid expansion, the functionality supports addition and removal of volume from any annulus, both before and after a thermal change.


Oliasoft WellDesign is continuously being developed and refined, both internally and in collaboration with other companies. Implementation of the Span & Wagner model, a full equation of state specifically for CO2, and dual phase calculations are currently in the pipeline.

Oliasoft WellDesign API:
Integrate third party applications with our API and open up the power of automation:
Full REST API support

Powerful and scalable backend support for multiple simultaneous simulations

Supports all import, export, and recalculation features

Automation routines and integration with third party systems